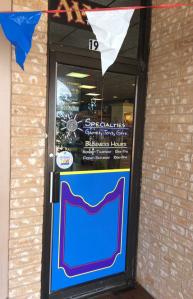 Specialties Loves Teachers!

    Teachers at all levels work hard, and we appreciate the job you do.  We can make your job easier by offering:

Unique, award-winning games and toys with a purpose.  From pre-school to high school, we have lines you won't find anywhere else in town.

We can work with your school system.  Specialties is on many approved vendor lists.  If we are not on yours, we will work with you to get there.

We can special order for you, have larger items drop shipped to your door, or deliver and set up (in town).  We can also ship to out of town customers.

We know how to play.  We will demo any of our products and show you how to.

Specialties

Games, Toys, Gifts

1913 Knickerbocker Rd.

San Angelo, TX 76904

Phone: (325) 947-5234

Store Hours:

Monday - Thursday 10:00AM to 7:00PM

Friday - Saturday 10:00AM to 8:00PM

Sunday Closed

We are no longer located in Sunset Mall!  Visit our store in The Shops at Stadium Park.